02/21/2018
We have been given another opportunity to have some fun on a roof this winter!
We are very blessed and excited with the opportunity to design and shingle murals on projects as we believe it adds a personal touch to each building.
The Keswick United Methodist Church in Suttons Bay was interested in a new roof and roof mural this year for their building on Center Highway in Suttons Bay. They contacted Absolute Building Solutions to see if we would be interested in the project. Of course, we said yes and were able to get started last week. The challenge we faced with this project was the weather, which is to be expected in northern Michigan this time of year. To get started we needed one nice day to lay out the design. Luckily, we got one.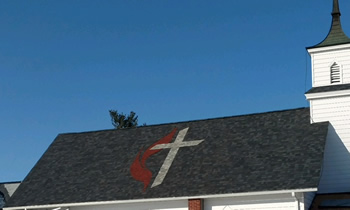 To implement a successful roof mural that can be enjoyed by the owner and by everyone that passes by, the roof pitch has to be perfect. Not all roofs are great candidates for murals but many churches, wineries, banks and farms that are iconic parts of a community are excellent candidates. This church was one of them.
Murals are not only a great landmark to help those looking for your address but can also be a great opportunity to advertise your business or organization. They are also a great conversation piece and a wonderful way to help cement certain locations or buildings into a community landscape for generations to come.
When we have the opportunity to create one of these murals we get excited because we know that each one is unique and interesting and adds a little joy to each person involved in creating it.
Shingle roof murals are definitely a way that people can express themselves, their ideas, beliefs and passions in a way that is tasteful and creative. They are a great way to help your building stand out from the rest of the buildings in the area!
If you would like to get a quote today for your shingle roofing mural project give us a call us at 231-263-8300. We are a Grand Traverse area roof maintenance and replacement contractor and would love to help you keep your roofing needs.
Matt Douglass
Absolute Building Solutions LLC